Cover (by Simen Engen Larsen)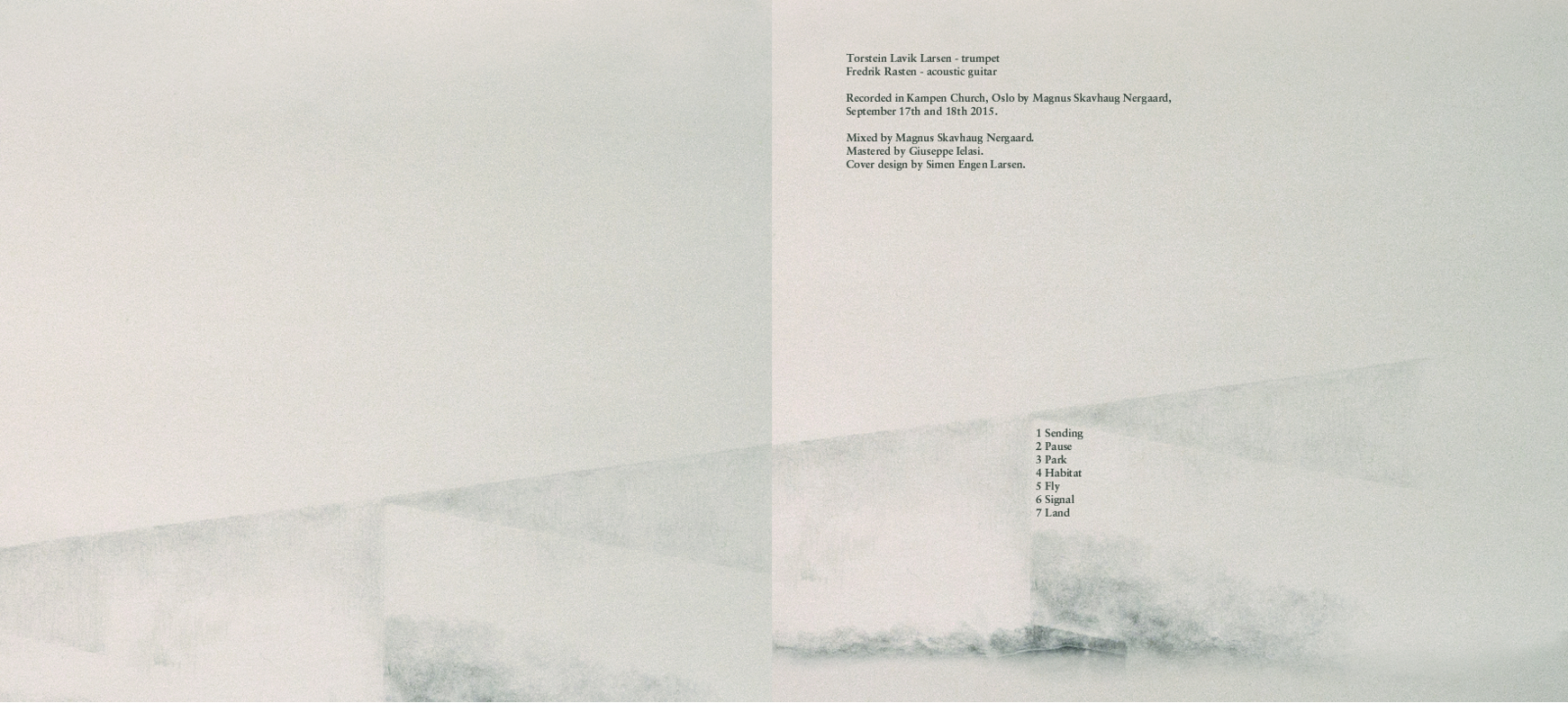 Norsk Presseskriv, Pip (Creative Sources 2016)
Pip debutplate ute 28. september!
Duoen Pip ble dannet da en ung jazzkvartett trengte et bandnavn. «Pip» ble foreslått, men navnet falt ikke i god jord hos de andre i bandet. Dermed startet utbryterprosjektet Pip. 
Nå slippes deres første offisielle og selvtitulerte utgivelse på portugisiske Creative Sources. Plata presenterer retningen musikken har beveget seg i de siste årene; klanglig fri-improvisert musikk kun med akustisk gitar og trompet, med utstrakt bruk av prepareringer og alternative spilleteknikker. 
Hvert av de syv stykkene på plata tar utgangspunkt i noen enkle rammer og ideer som skaper ulike energier og klanger, og selv om musikken beveger seg i et minimalistisk og lydbasert landskap skinner tidvis Pips bakgrunn som en harmonisk, lyrisk, låtbasert duo gjennom. 
Plata er spilt inn i Kampen kirke. Magnus Skavhaug Nergaard har stått for innspilling og miksing, mens mastring er gjort av Giuseppe Ileasi. Omslagskunst og grafisk utforming er gjort av Simen Engen Larsen. 
Pip er:
Torstein Lavik Larsen – trompet
Fredrik Rasten – akustisk gitar
English press release, Pip (Creative Sources 2016)
Pip´s debut record out the 28th of September!
Pip started up when a young jazz quartet needed a band name. «Pip» was suggested, but the name did not find fertile soil. This was the impetus for the guitarist and trumpeter to form a duo. 
Now their first offiial and self-titled record is released on Portugese label Creative Sources. The release presents the direction the music has gone the last years; vibrant free improvised music played on acoustic guitar and trumpet, with use of preparations and extended playing techniques. 
Each of the seven pieces is based on some simple frames and ideas that create differing energies and timbres, and even though the music moves in a minimalistic and sound based landscape, the duo´s background as a more conventional lyrical jazz duo shines through. 
The music is recorded in Kampen Church in Oslo by Magnus Skavhaug Nergaard, who has also made the mix. Mastering is done by Giuseppe Ielasi, and cover art is by Simen Engen Larsen. 
Pip is:
Torstein Lavik Larsen – trumpet
Fredrik Rasten – acoustic guitar